The Vatican Christmas Tree, also called the Saint Peter's Square Christmas Tree, is the decorated tree that is erected annually in the Saint Peter's Square directly in front of St. Peter's Basilica in the Vatican City to celebrate the Christmas holiday season.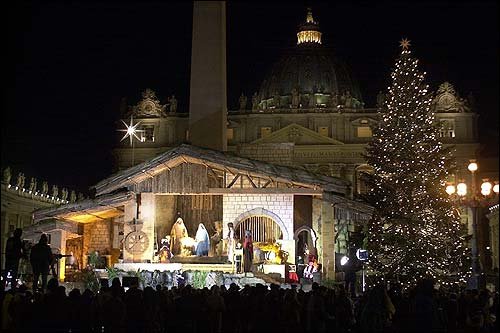 The tradition of placing a Christmas Tree as well as the life-size Nativity Scene in Saint Peter's Square started in 1982 during the pontificate of Pope John Paul II, when the Polish-born Pope introduced the northern European symbol of Christmas spirit. The tradition of erecting a Christmas Tree was celebrated in northern Europe and in Poland, Pope John Paul II's country of origin, but not in the Vatican at the time.
The first tree came from Italy. For 9 years the trees predominantly came from either Italy or Austria. The offering of the Christmas Tree to the Pope has become an honour, and each year the Vatican accepts a tree donated by a different European country or region.
The Christmas tree is installed in the centre of Saint Peter's Square, together with a life-size nativity scene that is unveiled on Christmas Eve. The nativity scene has seventeen life-size statues. Of these, nine are the original figures donated in 1842 by Saint Vincent Pallotti for the nativity scene in the Roman church of Sant'Andrea della Valle, and the other eight figures were added over the course of the years. In 2006 the Italian province of Trentino, and the local council of a village of Tesero have provided a further thirteen sculpted wooden figures and animals, as well as household utensils for the depiction of daily life.
List of Christmas Trees and Country of origin:
1982 – Alban Hills, Italy – The first Vatican Christmas tree
1983 – Tyrol, Austria 
1984 – Waldmunchen, Bavaria,Germany
1985 – South Tyrol, Italy
1986 – Toblach, South Tyrol
1987 – Carinthia, Austria
1988 – Cadore, Italy
1989 – Schärding,Upper Austria,Austria
1990 – Ponte di Legno, Brescia, Italy
1991 – Vorarlberg, Austria
1992 – South Tyrol, Italy
1993 – Graz-Seckau, Styria, Austria
1994 – Žilina,Slovakia
1995 – Obertraubling, Regensburg, Germany
1996 – Kocevje, Slovenia
1997 – Zakopane, Tatra Mountains, Poland
1998 – Schwarzwald, Germany (image below)
1999 – Moravka, Czech Republic (image below)
2000 – Carinthia, Austria. 
2001 – Transylvania, Romania – The Romanian President, Ion Iliescu was present during the lighting ceremony. (image below)
2002 – Gorski kotar, Croatia – 28 meters high. (image below)
2003 – Pré-Saint-Didier,Valle D'Aosta,Italy – This 32 meter, 110 year old tree was presented to the Pope along with twenty other smaller trees by 300 people from Valle D'Aosta, including the Governer of the region. (image below)
2004 – Pinzolo, Trento region, Alps mountains, Italy – This 32.5 meter, 100-year-old tree was taken from the Italian Alps. (image below)
2005 – Afiesl, Upper Austria – This 33 meter tree was donated along with 32 smaller trees to decorate the papal apartments. (image below)
2006 – Taverna, Calabria, Italy – 33.5 meters high. (image below) 
2007 – Val Badia, Italy – 30 meters high tree from the Dolomites Mountains. (image below) 
2008 – Municipality of Gutebstein, Lower Austria – This 33 meter, 120-year-old tree was donated by Austria was the oldest tree donated. This tree was then cut up and recycled into wooden toys, chests and benches, and other things, that children can decorate and use. (image below)
2009 – Ardennes forests near Spa, Wallonia, Belgium – This 90-year-old, more than 30 meter high tree weighed 14 tons, with a trunk circumference of 2.65 meters, and bottom branches that spread out 8 meters wide. It was decorated with 2000 golden and silver colored bulbs and 1500 lights. The town of Spa also donated 40 small trees to decorate the halls and rooms of the Vatican City. (image below)
2010 – Bolzano, South Tyrol, Northern Italy – 94-year-old, 33.5 meter high tree.(image below)
2011 – Zakarpattia Oblast, Ukrain – This 30.5 meter high tree with a trunk circumference of 56cm had more than 700 branches and was decorated with 2500 silver and gold baubles, illuminated by white and yellow lights. It was inaugurated on December 16th in the presence of bishops from the Ukrainian Orthodox Church. (image below)
2012 –  Pesopennataro, Italy – 30 meters high. (image below) 
2013 – Waldmunchen, Bavaria, Germany – 25 meter high (image below)
2014 – Calabria, Southern Italy – 25 meter high. (images below)